Deskspace CMS - web-site builder
Benefits
Micro-responsive Web Design avoids bloated CSS.
We have resurrected the old technique of in-line CSS, without using external style sheets or libraries, and automated the process to dynamically create only the CSS that each page requires.
This avoids the user's device or the network from having to cope with lots and lots of code that has absolutely zero relevance to the page they wish to read.
A Deskspace CMS site is typically between 5 and 10% of the size of the site it replaces which explains precisely why it is so fast.
Got something to say? Say it with Deskspace CMS.
The contents of each Deskspace CMS page are stored in a single text field in the underlying database which means that a page is edited as a page of text. Editing is hence much easier than when content is spread over many separate boxes in a current drag and drop website editor.
Secondly, the preview of your page normally updates in a few hundredths of a second which means that you can instantly see the effect of the change you have made. This makes it easy to quickly learn by doing.
Faster web pages
Your site will be mega-fast, on any device.
Sites built with Deskspace CMS typically score 90-98% on the Google Page Speed Insights test, the fastest responsive pages on the web.
But don't just take our word for it! It is easy to open the Google Page Speed Insights web page and enter any web page's address - it's URL - and test it. This means you can compare various sites created with DeskspaceCMS from our examples page here with your own or any other site and make up your own mind.
Google Page Speed Insight is here.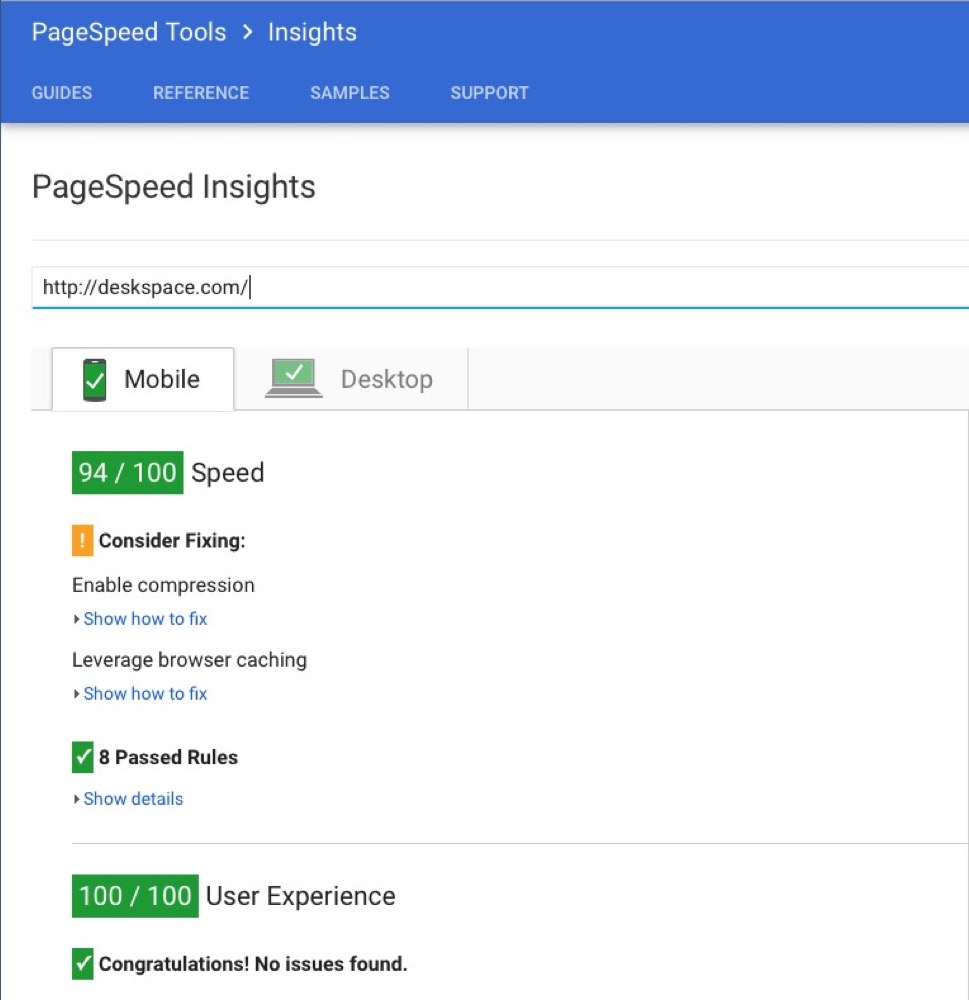 Ultra mobile-friendly
Search engines love fast mobile friendly sites.
In April 2015 Google announced that it would henceforth down rank any non-responsive web sites. Since then the benefits of a site being responsive have been obvious in search terms and also because it means that people can very easily read and navigate your site on anything, hence more people will use your site in any case since it is a better experience for them.
Some sites endeavour to be responsive by having several different sites, for different sizes of device display. This isn't counted as being responsive and it creates a nightmare updating pages where there are perhaps three different pages to change and check each time.
In fact Deskspace CMS also provides an amazing user experience by adapting to five different sizes of display and seamlessly transitioning across the entire range.
Putting you in complete control
You can easily control your site content yourself.
Today's web sites are often much more dynamic and current than the old 'brochure-style' sites of the past, or they would like to be. That is one reason for the popularity of social media sites, you can just add content whenever you wish. However, many people have to go through a third party to get their own site content changed, whether it is the marketing department or an external consultant. The process often requires experience and expertise and may be less than intuitive.
When you use Deskspace CMS to build and manage your site you are in complete control, just edit an page and click 'Publish'.
Quick, easy and fast
Changing your site is easy and quick.
You can change your site whenever you wish. Just open the App, change the page content, ensure that you have an internet connection, click the 'Publish' button and you are done. You can also edit your site whilst you are off-line, because the App can run locally on your Mac or Windows PC.
&nbsp&nbsp &nbsp&nbsp &nbsp&nbsp